13 Vietnam Travel Tips That Might Just Save Your Life
Vietnam is one of the easiest countries to travel around in Southeast Asia, with its friendly local people, amazing street food and majestic landscape.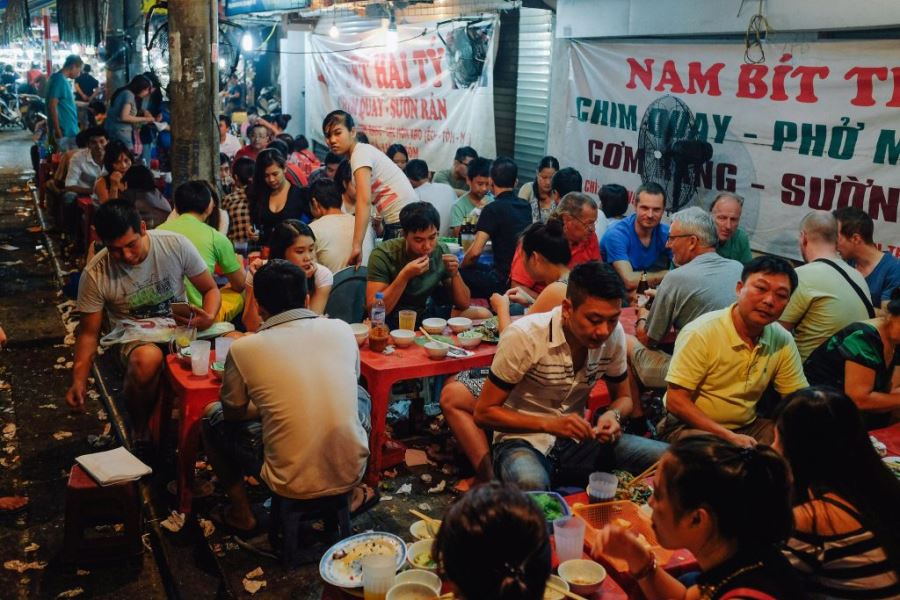 Vietnam street food scene | © Paul Galow/Flickr

Read on for some tips that will not only save your life but also help you make the best of your trip to the country.

Know the price to avoid scamming
Unfortunately, Vietnam is notorious for scamming and rip-offs and such taxi drivers, moto-taxi drivers, and overfriendly street vendors are really good at tricking unsuspecting tourists. Besides, in many street restaurants where they do not have the price on the menu, it's tricky to check the bill. Visitors are advised to ask the price before deciding to order anything.

Bed bugs and mosquitoes
Nothing is more frightening than the prospect of getting bites from bed bugs and mosquitoes. Bed bugs can especially be crawling under your mattress seam or bedside tables in the dorms if you do not check them first after arrival.

Water and food safety
It's never safe to drink tap water in Vietnam, due to the high amount of metal and contamination. The best choice is to drink bottled and filter water if available. As for food, bear in mind that most Vietnamese street food is potentially unhygienic as it's unlikely to trace back to the sources of ingredients.

Traffic and driving safety
Honking, running a red light, driving in the wrong lane, texting on the phone… such habits prevail on the streets of Vietnam, creating non-stop chaos and a bustling pace of traffic. Therefore if you've ever considered taking up driving in the country, beware of the possibility of any crash or accident even if you're driving carefully!

Dress conservatively
Remember not to wear any short-sleeved shirts or short pants whenever you enter sacred places. In big cities, clothes might not be a major issue but when it comes to small towns or visiting old people, dressing informally will be considered out of respect.

Beware of the weather
Visitors cannot guarantee seeing the best of any majestic landscape if it's not in season. Sometimes it's possible to end up in a hotel for the whole day during the rainy season, or having to cancel your trip because the town is being flooded.

Avoid going out late
Vietnam may come across as one of the safest countries in the world but recent incidents regarding sexual harassment to Western women might make you think twice if planning to go back to a hostel at midnight. The police will offer no help even if you report an incident to them and it might take a while for your embassy to take your case into consideration.

Never climb the mountain alone
Nothing beats the thrill and excitement of being alone, completely immersed in nature, without following any tour guide. However, it's been warned that the dangers of the cliffs and routes in Vietnam's forests and mountains are considerably unpredictable. And the death of a 22-year-old British mountain climber last year should be a precious reminder for any hikers.

Delayed airlines
Most Vietnamese airlines have acquired a notoriety for delaying the flights regardless of the price you have paid. Therefore if you plan an important meeting or have an urgent trip, consider carefully the flight time and add on extra hours in your itinerary for waiting!

High pollution
Recently, big cities in Vietnam have become potential competitors against Beijing in the list of the most polluted cities in the world. Visitors better get a face mask if planning to tour around the city during rush hours.

Don't drink too much
One of the best things about traveling to Vietnam is the country offers a variety of cheap alcoholic drinks. However, as for their quality standard, the hangover might be even worse than you can imagine.

Be prepared if you're a vegan or vegetarian
Even though Buddhism is the most popular religion in Vietnam, a majority of people still frown upon the idea of going vegan or vegetarian. It's often tricky to get a vegetarian meal if you opt for a normal restaurant instead of vegan places.

Avoid national holidays
It's advisable to check out the national holiday schedule before setting off in Vietnam as most of the locals will make their way back to their hometown, leaving the city like a ghost-haunted place. At its worst, especially during the New Year period, local restaurants will close down for days without any further notice of the reopening dates.

The Culture Trip
Leave a Reply
Fan Page2
Tags