36 Hours in Ho Chi Minh City, Vietnam
And when you need a breather from all that's new and fabulous, it's easy to steal quiet moments in crumbling colonial buildings and contemplative art spaces.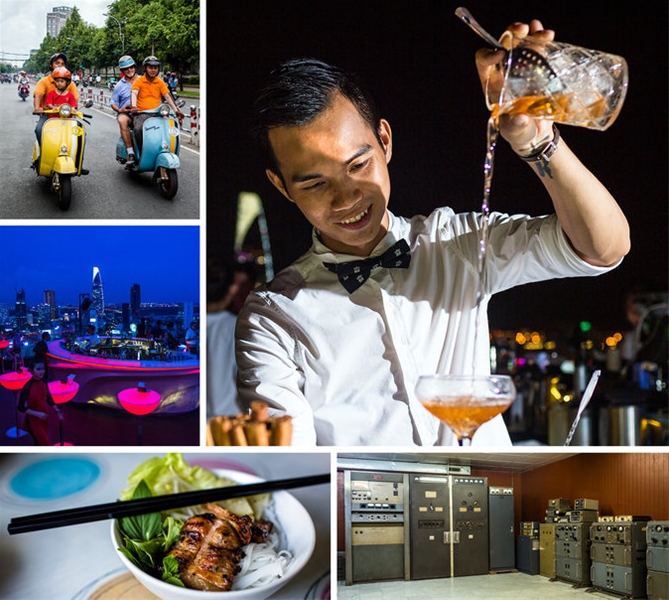 Clockwise from top left: Vietnam Vespa Adventures; pouring a drink at Chill Sky Bar; communications equipment in the Reunification Palace; a dish at Quan Hoa Dong; a view from Chill Sky Bar.

Buzz, buzz, buzz. Whether it's the roar of motorbikes, the near constant opening of bars and restaurants, the chatty nature of its inhabitants, or the abundance of great coffee, there's just something invigorating about Ho Chi Minh City, Vietnam's largest metropolis. It's no surprise that Saigon, as most locals call it, exudes a youthful, inventive energy — after all, over half of its eight million dwellers are younger than 35. This dynamic spirit shines through in quirky cafes, innovative cuisine and boutiques selling homegrown fashion.

FRIDAY

1. Who Crashed the Party? | 3 p.m.

The entrepreneurial Saigonese may seem unstoppable, but it wasn't always this way. The Reunification Palace (entry 30,000 Vietnamese dong, or $1. 46 at 20,506 dong to the dollar), the former headquarters of the South Vietnamese government, looks just as it did on April 30, 1975, the day a North Vietnamese tank crashed through its gates, marking the end of the brutal 20-year war. History buffs and fans of modernism will appreciate its opulent, well-preserved interiors, which range from official rooms adorned with heavy silk upholstery and intricate lacquerware to the Gambling Room with its low-slung olive-green armchairs, where it's easy to imagine officials plotting the war over booze and cards. A labyrinth of underground concrete rooms dedicated to the war effort is filled with maps, pastel rotary phones and humorously large radios.

2. Served Up | 5:30 p.m.

Rise above the din of Friday rush hour by heading to one of the city's rooftop bars, built atop sparkling skyscrapers that provide a mesmerizing view of the city's broad boulevards and chaotic traffic circles. On the 52nd floor, Eon Heli Bar, in the city's tallest building, Bitexco Financial Tower, offers the highest perch for a sunset tipple. Luckily, happy hour prices aren't as steep, with drinks like the Basil Gimlet (gin, Cointreau, fresh basil) half-priced at 145,000 dong. The nouveau riche gather at Chill Sky Bar, where cocktails conceived by the mixologist Le Thanh Tung are shaken at an illuminated outdoor bar, while 23rd-floor Shri is stylishly subdued. Intimate tables on the terrace are surrounded by potted frangipanis and the occasional songbird. Book ahead and leave the flip-flops behind.Cuc Gach Quan. Credit Quinn Ryan Mattingly for The New York Times.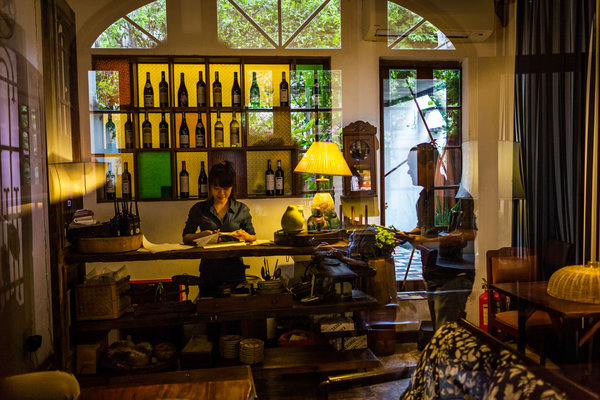 Cuc Gach Quan. CreditQuinn Ryan Mattingly for The New York Times

3. Country Kitchen | 7 p.m.

With its chipped vintage dishware, bookshelves stuffed with tattered novels and vinyl records, and recycled wood tables, Cuc Gach Quan is a breath of fresh air in the city's sleek facade. Tran Binh, the architect-owner, opened the restaurant in a French colonial building as an ode to his grandmother's country home, blending nostalgia and Vietnamese home cooking with an eco-flair. Fresh ingredients are used in the expansive menu (there are 35 vegetables alone to choose from) with highlights like deep-fried tofu with lemon grass and chile and a crispy sea bass in passion fruit sauce (both 90,000 dong). A few streets away is a sister property, Cuc Gach Café, a midcentury-inspired space with a daily menu (100,000 dong) and fruit smoothies.

4. Celestial Vibes | 10:30 p.m.

A popular cafe by day, La Fenêtre Soleil turns into a chic house party on weekends, when live bands and D.J.s play everything from dancehall ska to psychedelic 1960s Asian pop. Hipsters, artists and 20- and 30-somethings flock to the romantic space — huge windows, mismatched armchairs, gilded mirrors and framed antlers on the walls — to sip red wine and dance the night away. Newly opened Observatory is positioning itself as a hub for the city's alternative cultural scene, hosting live music and D.J.s in the evenings and art openings and readings during the day. Weekend parties continue into the wee hours — sometimes well past sunrise.

SATURDAY

5. Vroom Vroom | 8 a.m.

Join the sea of motorbikes with a tour by Vietnam Vespa Adventures, whose beautifully restored vintage Vespas will transport you to the city's less-trodden spots (guests ride pillion). Led by a well-versed local guide, the half-day "Insider's Saigon" option ($65) putters along to stops like the intersection where the Buddhist monk Thich Quang Duc burned himself to death in 1963 to protest the persecution of monks under the South Vietnamese government, coupled with intimate views of city life: an incense-filled temple in the old Cholon neighborhood; a park where bird owners gather on weekend mornings to sip coffee accompanied by their caged, tweeting pets.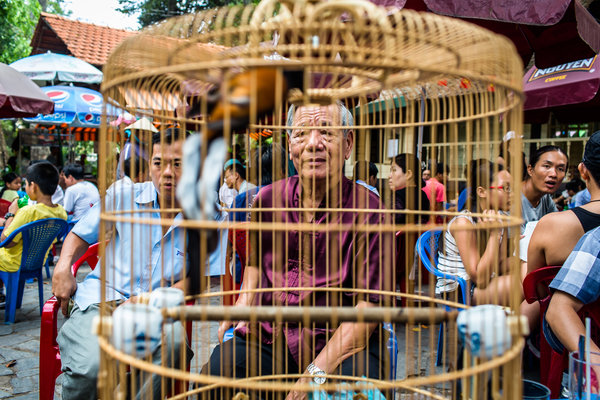 A park where bird owners display their pets. Credit Quinn Ryan Mattingly for The New York Times

6. Simple Pleasures | 12:30 p.m.

In Saigon, you can spend $100 or $1 on a meal and enjoy them equally — sidewalks, markets and mom-and-pop storefronts are home to many of the city's best cooks. At Quan Hoa Dong, a fan-cooled eating spot one block north of the Ben Thanh Market, a mother-daughter team grill skewered pork to perfection for the bun thit nuong (60,000 dong), a must-try dish of rice noodles, fried spring rolls and fresh herbs. Nearby Thanh Binh is known for its crab claws — try them with the tapioca noodle soup (70,000 dong) or smothered in tamarind sauce (220,000) — and offers a large menu of classic southern dishes. Save room for a tall glass of sweet che thap cam (16,000 dong) — chipped ice, coconut milk and layers of tapioca pearls and soft beans — at Che My 2, a 15-minute walk.

7. Buy Local | 2 p.m.

Tempted as you might be to don the classic mandarin-collared ao dai tunic, why not take home a souvenir that's a little more au courant? A good place to start is Ginkgo Concept Store, which focuses on sustainably made items from clothing by local designers (check out Linda Mai Phung's organic cotton and silk line) to gorgeously packaged bars of Marou chocolate, Vietnam's first single-origin, handmade chocolate using local cacao beans. Boho-chic Mai Lam offers avant-garde interpretations of traditional Vietnamese styles in intricately sewn, eco-friendly materials, on the city's stylish shopping street Dong Khoi. Anna Vo is stocked with hound's-tooth cropped tops and lace mini-dresses designed by a Milan-trained Saigonese fashionista.

8. Art on the Rise | 4 p.m.

Though Hanoi is considered Vietnam's cultural hub, Ho Chi Minh City's more open-minded atmosphere is now fostering its own creative scene. Housed in a former factory, Galerie Quynh is a contemporary gallery, putting on several shows a year that examine the Vietnamese psyche. The nonprofit San Art supports experimental work, while Craig Thomas Gallery is run by an American who's been involved in the local art scene for over 10 years.

9. Global Tastes | 7 p.m.

The city's progress has brought with it a new wave in taste, evident in the booming restaurant scene that spans a global palate. At Pizza 4P's, down an alley off the main street, four friends from Tokyo bring the precision of Japanese cooking to thin-crusted Margheritas topped with homemade mozzarella, and pies inspired by their homeland, like the calamari-seaweed pizza (from 95,000 dong), baked in a wood-fired oven. On the former grounds of an opium refinery, Blanchy Street is run by two Nobu London-trained chefs, Martin Brito and Yogo Oba. In an intimate space with pretty tile flooring and wooden tables, the pair fuse Japanese and South American flavors with panache, serving such dishes as octopus carpaccio with jalapeño sauce (180,000 dong), along with a sushi and sake menu.

10. Beautiful People | 10:30 p.m.

At the Park Hyatt's 2 Lam Son bar, a stunning example of old-meets-new with its latticed screens and glass bauble light fixtures, unwind with a ginger martini (210,000 dong) in one of the romantic, fabric-draped nooks or grab a street-facing cocktail table, watching the city's youth zip by on mopeds. D. J.s perform on Fridays and Saturdays. Xu, which also houses a modern Vietnamese restaurant, attracts the see-and-be-seen set, who don high heels, short skirts and flat-ironed locks while sipping drinks prepared with ingredients like sugarcane juice and kumquats (from 120,000 dong) accompanied by thumping music and paintings of figures like Richard Nixon and Napoleon.

SUNDAY

11. Colonial Cuppa | 10:30 a.m.

Among the influences French culture has had on this former colony, two enduring examples are great coffee and architecture, which come together at L'Usine, down an alley lined with art stalls off Dong Khoi. Opened by a group of 30-something expat friends, the cafe-boutique is in a grand 1890s structure that was once the Hotel de Saigon. It is now restored to much of its original glory, with soaring cast-iron pillars and arched windows punctuating the light-filled space. With a Vietnamese coffee in hand — dripped through a sieve and mixed with condensed milk — and eye-catching housewares and clothing by local designers, it's the perfect place to ponder Ho Chi Minh City's storied past and bright future.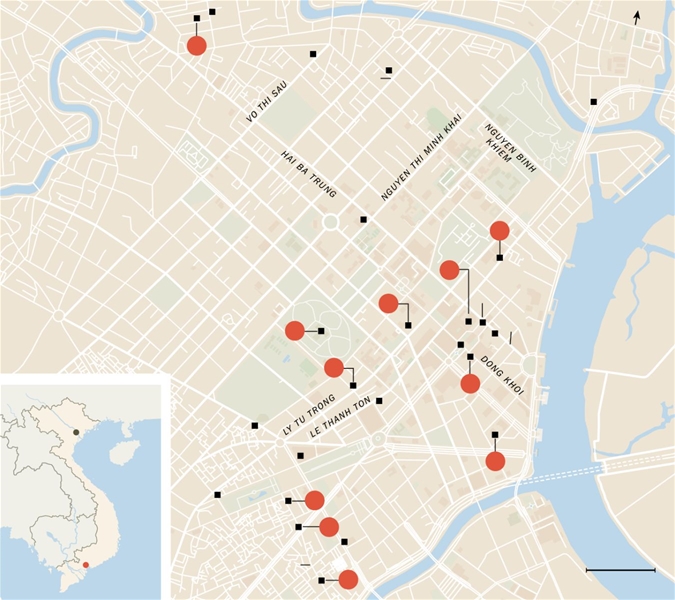 THE DETAILS

1. The Reunification Palace, 135 Nam Ky Khoi Nghia; dinhdoclap.gov.vn.

2. Eon Heli Bar, Bitexco Financial Tower, 2 Hai Trieu; eon51.com. Chill Sky Bar, 76A Le Lai; facebook.com/like.chill.saigon. Shri, 72-74 Nguyen Thi Minh Khai; shri.vn.

3. Cuc Gach Quan, 10 Dang Tat; cucgachquan.com.vn. Cuc Gach Café, 79 Phan Ke Binh; cucgachcafe.com.vn.

4. La Fenêtre Soleil, 44 Ly Tu Trong; 84-8-3824-5994. Observatory, Corner of Le Lai and Ton That Tung; facebook.com/theobservatoryhcmc.

5. Vietnam Vespa Adventures, 169a De Tham; vietnamvespaadventures.com.

6. Quan Hoa Dong, 121 Ly Tu Trong. Thanh Binh, 140 Le Thanh Ton; quananthanhbinh.com. Che My 2, 119 Nguyen Thai Hoc; chemy2.com.

7. Ginkgo Concept Store, 254 De Tham, ginkgo-vietnam.com. Mai Lam, 132-134 Dong Khoi; mailam.com.vn. Anna Vo, 21 Vo Thi Sau; annavo.vn.

8. Galerie Quynh, 65 De Tham; galeriequynh.com. San Art, 3 Me Linh; san-art.org. Craig Thomas Gallery, 27i Tran Nhat Duat; cthomasgallery.com.

9. Pizza 4P's, 8/15 Le Thanh Ton; pizza4ps.com. Blanchy Street, 74 Hai Ba Trung; blanchystreet.com.

10. 2 Lam Son, Park Hyatt, 2 Lam Son Square; saigon.park.hyatt.com. Xu, 71-75 Hai Ba Trung; xusaigon.com.

11. L'Usine, 151/1 Dong Khoi; lusinespace.com.

Lodging

The city's most luxurious digs, the colonial-inspired 244 rooms at the Park Hyatt Saigon (2 Lam Son Square; saigon.park.hyatt.com; doubles from $250) have four-poster wooden beds and framed old photos.

Inspired by Provence and a short drive from the city center, Ma Maison (656/52 Cach Mang Thang Tam; mamaison.vn; doubles from $78) has 12 rooms with ornate balconies and country antiques.

If the idea of tranquil evenings spent lounging in your own villa (with private pool) to the sound of chirping crickets appeals, the 15-room An Lam Saigon (anlam.com; doubles from $240) is just a 20-minute boat ride down the Saigon River from the city center.
By Nytimes



Leave a Reply
Fan Page2
Tags