4 essential things to know before investing in Danang Hi-tech Park
Incentive industries, preferential policies, factories for lease and support services are 4 things investors should keep in mind when making an investment in Danang Hi-tech Park
Advantages of Danang Hi-tech Park
Danang Hi-tech Park has a strategic location, accessing to major transportation modes including air, waterway, rail and road transport. This great advantage would save transport cost and time for investors. In additions, the connectivity with industrial parks and urban areas becomes more convenient.
As a key project of Da Nang, Danang Hi-tech Park receives strong support in terms of facilities and policies. Da Nang city government and the Danang Hi-Tech Park and Industrial Zones Authority are highly appreciated by businesses for their efforts in solving difficulties of investors as well as implementing administrative procedures.
Danang Hi-tech Park has a strategic location, taking an advantage of complete transport network.
Preferential investment policies
List of industries and industries prioritized to attract to the Danang CNC area is specified in the Prime Minister's Decision No. 66/2014 / QD-TTg approving the list of CNCs prioritized for development investment and CNC product categories are encouraged to develop; and Decree No. 111/2015/ND-CP dated November 03, 2015, on development of supporting industry.
Regarding incentive policies, the income tax rate of enterprises in Danang Hi-tech Park is applied at 10% for a period of 15 years, for new investment projects. Particularly for new investment projects with a capital size of VND 3,000 billion or more, the preferential tax rate of 10% for a period of 30 years. Enterprises also enjoy income tax exemption for 4 years and a 50% reduction of payable tax amounts for 9 subsequent years.
Businesses will also be exempt from taxes on imported goods to create fixed assets in high-tech park projects such as machinery, components, vehicles, construction materials, etc. Enterprises are also entitled to import tax exemption for 5 years from the commencement of production for domestically unavailable raw materials, supplies and components imported for production of investment projects in the Hi-tech Park.
Factories for lease in Danang Hi-tech Park
Long Hau Corporation, the investor of Long Hau Industrial Park in Long An province is granted an investment registration certificate for High-tech Factory in Danang Hi-tech Park. The project has an area of 29.6 ha with a total investment capital of VND 1,050 billion.
Long Hau High-tech Factory in Da Nang offers workshops for lease with flexible area of 500 – 3,300 m2. The workshop has full functional units including manufacturing space, office space, water supply and drainage systems, fire protection system… Currently, the first phase of High-tech factory with an area of 10,000m2 is constructed in auxiliary area of Danang Hi-tech Park. It is expected to be completed and handed over to tenants in this December.
Since the announcement, Long Hau High-tech Factory in Da Nang has been highly appreciated and gained significant attention from investors. The project is developed by Long Hau Industrial Park, one of the leading industrial parks Southern region. Tenants will be entitled to preferential investment policies from Danang Hi-tech Park.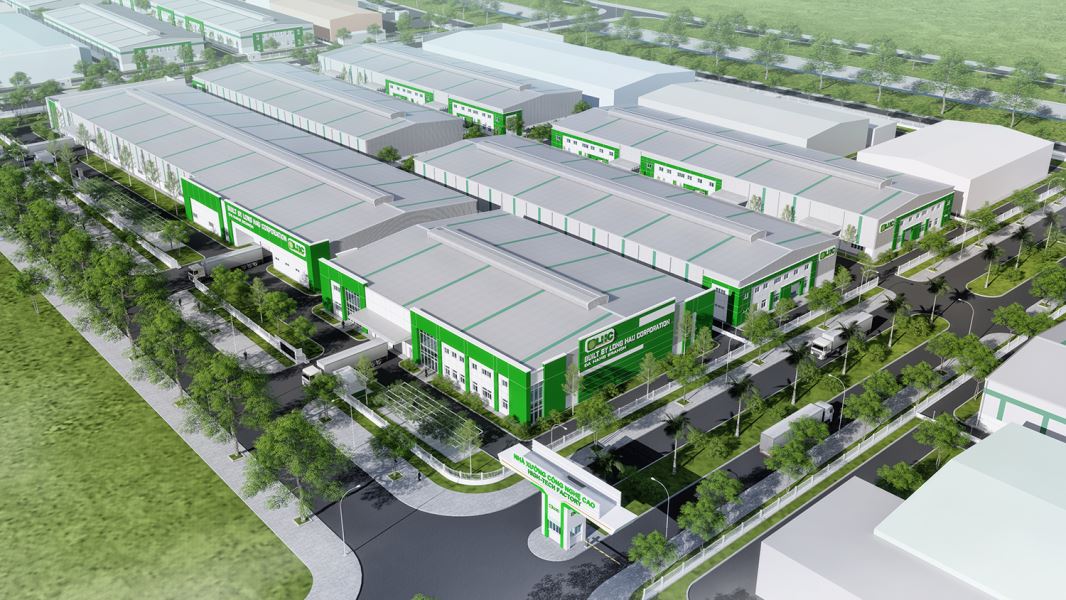 Perspective of Long Hau High-tech Factory in Da Nang
Support services
Not only construction of the project, Long Hau also develops a full range of support services for enterprises leasing the workshop as well as enterprises in Danang High-tech Park.
In particular, legal advisory service provides direct support on legal procedures, business registration and environmental impact assessment. Long Hau has advantages of professional staff and strong support of Da Nang management agencies that help fasten the process.
Thanks to a strong network of universities, colleges and vocational training centers in Da Nang, Long Hau also provide recruitment service that fits the need of business and get the best matched talent.
Besides, there are other services such as transportation, catering supply, etc. to support the production process, employee care, thereby creating a sustainable environment investment in Danang Hi-tech Park.
Long Hau Industrial Park - Partner in success
Address: Hamlet 3, Long Hau commune, Can Giuoc District, Long An province
Hotline: (+84 28) 3937 5599 - (+84) 906 938 599
Email: sales@longhau.com.vn
Fanpage: fb.me/longhau.com.vn
Zalo Official: https://zalo.me/2384735100152725129


Leave a Reply
Fan Page2
Tags