9 months less to run a new German-standard factory in Vietnam
Only in 9 months of establishment, the manufacturing facility in Long Hau will become the major source for SurTec products in the South-East Asia region, increasing its production capacity in Asia significantly and very promising future for its business activity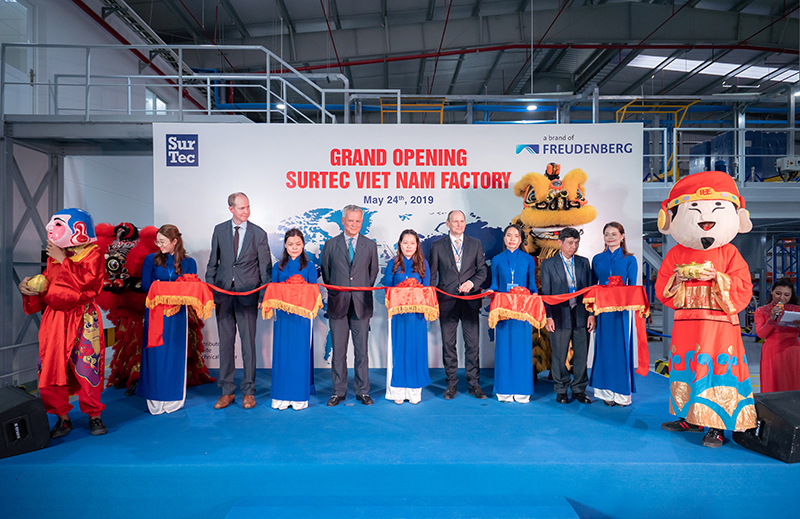 Inaugurate new production site in Vietnam
15 years after the establishment of China facility, Dr. Karsten Gruenke, CEO of SurTec International decided to form a new facility in Vietnam as remarkable milestone to celebrate its 25th anniversary by the 1,500sqm modern factory in green Long Hau Industrial Park.
SurTec is one of the subsidiaries of the Freudenberg Chemical Speciality Group with a history from 1849, as Germany's leading manufacturer in surface finishing chemical specialities, having representatives in over 26 countries. The idea of Vietnam plant has formed by November 2017. It took less than 9 months from the Reservation Agreement signed on June 2018 to March 2019 for the plant fully operated.
On May 24 2019, The Grand Opening marks their officially strong presence which now beneficial to its clients in Vietnam and in Asia Pacific. The implementation 9-month period of time is considered as quick and effective in their operation history for a certain new project.
Find the right location for new plant
To ensure the high quality products, the equipvalent facility is a must. SurTec set high merits on all production facilities worldwide operate in compliance within internationally recognised standards such as ISO 9001 (Quality Management) and OHSAS 18001 and ISO 14001 which emphasises the important corporate goals of ecological friendliness and the conservation of resources.
Vietnam plant, thus, is required to be in green, well- equipped and sustainable location. It had raised the quest of seeking out of the right partner who has long-term orientation and values based on responsibility and care for people and environment. They had spent 5 months, visiting several industrial parks in the South. Eventually, the well-furnished Ready Built Factory RBF T4 with suitably diversified size for SME manufacturer as they need in Long Hau IP had been a selected option. The Parks also commits on one-stop service that guard new investments being set up within 6 months in easy and quick time.
When the place was all swamp and mangrove grass, no nice buildings formed as now, SurTec was the first investor to sign Reservation Agreement with Long Hau due to the trust on their experience and expertise as Industrial Master Developer over 13 years with significantly succesful projects.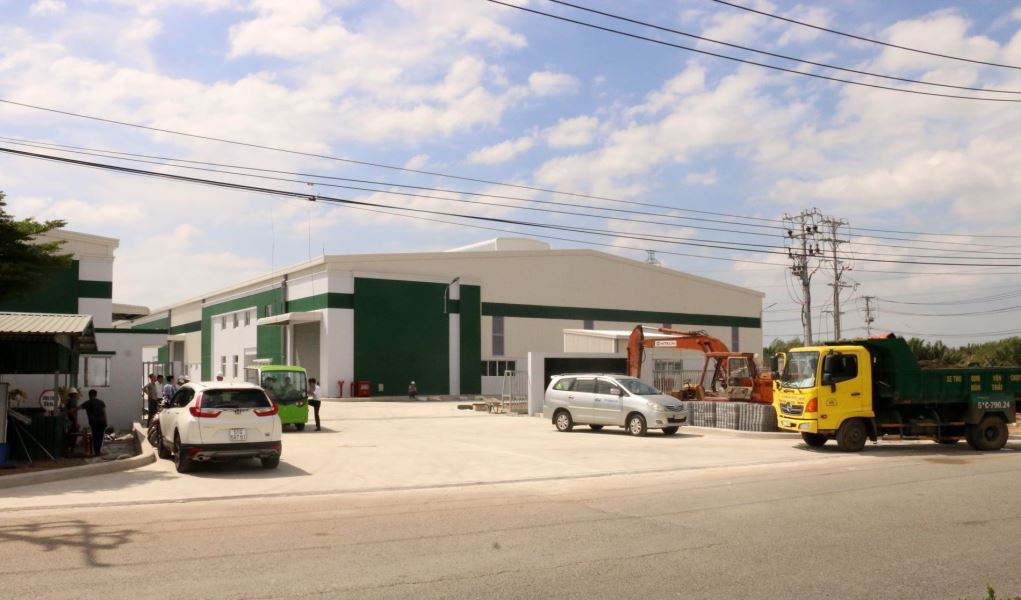 Gather a strong internal team together with accredited partners to deliver the operation in time and in budget
HSE (Health, Safety and Enviroment) is strongly maintained in every plant of SurTec worldwide, with standard factory leased from Long Hau, SurTec modified and installed more water tank, chiller, ventilation fan and air conditioner to ensure the quality standards.
Back to November 2018, once the road came to complete, Mr Oliver Penz and Mr Khôi Nguyen, Operation Management team had shared the concern of slope angle was 25% which caused difficulty for operation as it insufficient for forklift truck and hand forklift to move pass, creating risk of falling object, crushing human body, in case worker cannot push the heavy load over the slope and it run back to hit the body.
To solve the issue, Long Hau has quick feedback on adjusting it down to 15% by upgrading the load surface level for entire T4 workshop and internal roads, as well as allowing adjusted technical solution from SurTec by extending the length of the slope outside to the road to ensure suitable thickness and round edge for effective moves.
Within a week, after Mr Khoi dropped a crisp, details, considerate email showed Improvement Points to be followed up, Sales team and Technical team of Long Hau has quick decision to raise the road level to 10% more. The decision was like no other previous cases, it saved both sides a dozens of meetings, debate and fightings, and sometimes approval wating time from BOM. The voice of client does matter. People from SurTec and Long Hau are learning to upgrade our problem solving skill in a very sophiticated way from each other.
Back to November 2017, Dr. Gruenke and his local team had first met with Long Hau. As he stated in his speech on The Grand Opening that part of the success of SurTec new plant has been the very professional support of Long Hau Industrial Park. He thanks the team for continued engagement. "Personally, I felt from our very first meeting that we are welcomed as an investor, and hence I was convinced that we could develop the project together", he recalled. And the compliment on Intes work – its EPCM consultant who constribute to its facility completion in time and in budget despite the tough time schedule.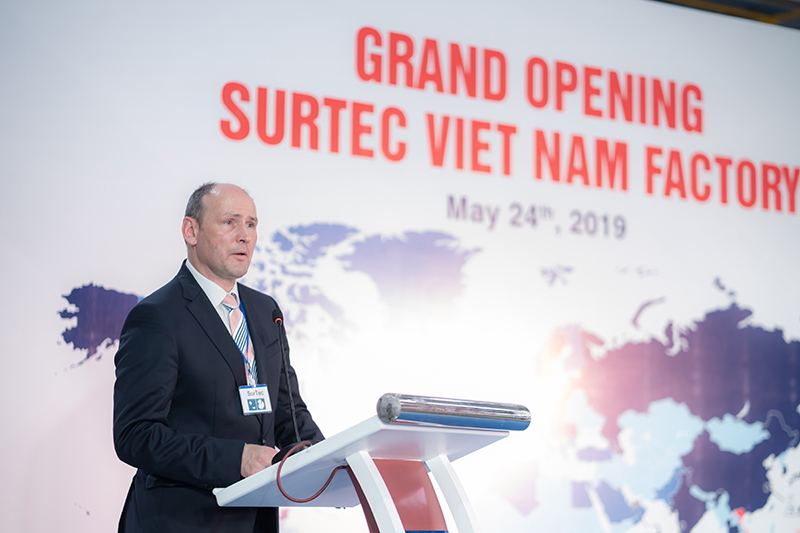 Challenge a status quo
As producer in Chemical Specialities, SurTec met some roadblocks in perception as the "dangerous" in the first encounter with Long Hau IP and local authority, but it had showed totally different. Their facility in Long Hau as others around the globe are operated and controlled by ISO 9001 (Quality Management) and OHSAS 18001 and ISO 14001. Only 7 manpowers are needed to run the facility with high level of automation, claimed as "lean manufacture". With the four vessels installed, it will be able to produce up to 5.000 tons for the local markets in Asia in 2020.
Its products and processes are environmental friendly. As an example, its cleaner product portfolio covers only water based technology. Although the industry today demands still a significant portion of solvent-based products, SurTec has long time ago decided not to offer these type of products. SurTec was the first company who has introduced Trivalent Chrome technology for plating applications in the functional area, avoiding toxic Chrome (VI). Now this technology has become an industry standard. Also in Decorative Chrome Plating, the replacement of hexavalent Chrome is growing fast. SurTec offers best-in-class technology for these applications.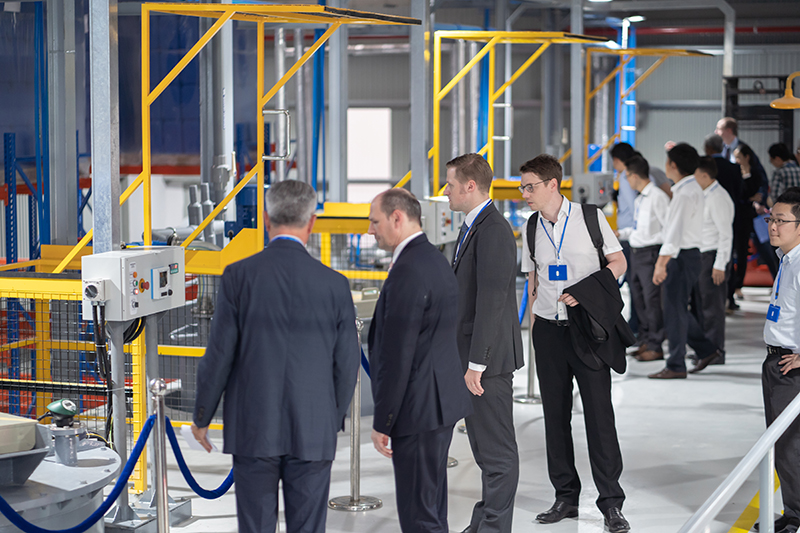 SurTec Vietnam factory

Long Hau Industrial Park - Partner in success
Address: Hamlet 3, Long Hau commune, Can Giuoc district, Long An province
Hotline: (+84 28) 3937 5599 - (+84) 906 938 599
Email: sales@longhau.com.vn



Leave a Reply
Fan Page2
Tags