AIoT Club established in HCM City
The Ho Chi Minh City AIoT (Artificial Intelligence of Things) Club has been set up to promote the technology locally and country-wide
The Ho Chi Minh City AIoT Club made its debut in HCM City on October 27. — VNA/VNS Photo

The Ho Chi Minh City AIoT (Artificial Intelligence of Things) Club has been set up to promote the technology locally and country-wide.

Vũ Anh Tuấn, general secretary of the HCM City Computer Association (HCA) and the club's chairman, said AIoT is a combination of artificial intelligence (AI) and the Internet of things (IoT) to improve human-machine interactions and enhance data management and analytics.

The combination makes AIoT a powerful and important tool for many applications, and is now widely used in many sectors and expected to grow strongly in the coming years.

For this reason, the HCA and some leading AI and IoT firms established the club to bring together agencies, organisations, experts and businesses leaders in technology in Việt Nam and elsewhere to promote the development of AIoT technology in the city and the whole country, he said.

The club is a member of the HCA and has 30 members from leading businesses in the fields of telecommunications, technology, solution development, and product supply.

Its executive board comprises representatives of Viettel, Mobifone, Sao Bắc Đẩu Technologies Group, PartyEco Technology Foundation Company Limited, Khánh Hội Telecommunications Co Ltd, and Exporum Vietnam.

Members hope to solve technical and infrastructure problems together, and work together to develop technologies and solutions for smart cities, homes and buildings, energy management, environmental monitoring, traffic management, water quality management , health, education, high-tech agriculture, and others.

The club will organise training programmes, help share experiences and network to promote AI and IoT technologies and eco-systems.

According to the HCA, the club is expected to contribute to improving Việt Nam's competitiveness in the global technology market.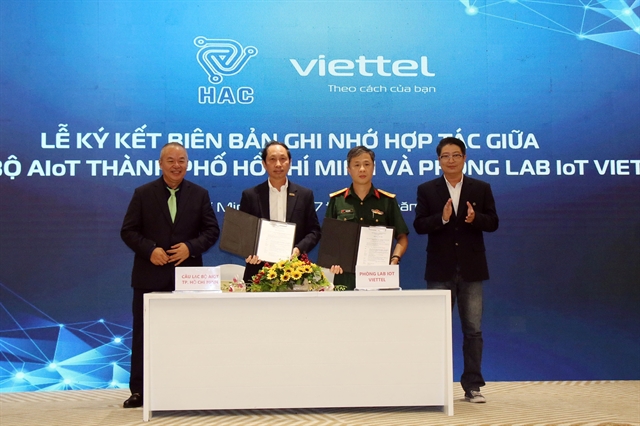 The Ho Chi Minh City AIoT Club signs a co-operation agreement with the Viettel IoT Lab. — VNA/VNS Photo

At the launch ceremony, the club signed a co-operation agreement with the Viettel IoT Lab, the most modern laboratory in Việt Nam and one equipped with 5G, IoT, AI, cloud, and big data, for free support for its members in researching, developing, testing, and perfecting their 5G and IoT solutions.

It also signed an agreement with PartyEco for joint research into 5G and IoT technology applications for smart agriculture and organising IoT and other specialised seminars.

Viet Nam News
Leave a Reply
Fan Page2
Tags