VIETNAM BEAUTYCARE EXPO 2023
Where the latest beauty trends converge
The return of the International Exhibition of Beauty Products, Services and Technology (Beautycare Expo 2023 ) in Ho Chi Minh City this September. The convergence of thousands of leading brands in the beauty field, from cosmetics, pharmaceuticals to the most advanced technologies.
Beautycare Expo 2023 is a key event in the beauty industry, organized by ADPEX Joint Stock Company under the auspices of the Ministry of Health, which will take place from September 13 to 16, 2023 at the Saigon Exhibition and Convention Center (Saigon Exhibition and Convention Center). SECC) District 7, Ho Chi Minh City. This exhibition promises to be a new turning point for the global beauty industry. With the participation of more than 350 booths from famous domestic and foreign brands covering more than 20+ countries & regions such as: Poland, Russia, Korea, Japan, China, Thailand, Taiwan, Hong Kong, Malaysia, Singapore, etc. attract more than 20 thousand visitors.
With the goal of bringing safe, effective and innovative beauty solutions, Beautycare Expo 2023 is a reliable platform that provides the latest information on beauty technologies and trends. The exhibition is also a place to create opportunities for startups in the beauty industry to approach investors, potential for cooperation and market expansion. With a large scale and diverse participation of experts, Beautycare Expo 2023 will bring not only attractive business transactions but also consultation sessions and exchange and experience sharing activities from experts. A leader in beauty. Top speakers and industry experts will share their experience and knowledge directly at the booth on issues such as: how to choose the right cosmetics for your skin type, safe and effective skin whitening, caring for hair and teeth, simple creative nails design, changing identity thanks to contact lenses, how to design a modern and cost-effective spa, ingredients for cosmetic production, etc.
The representative of the organizers said: "We are very proud to organize Beautycare Expo 2023 - the leading event in the beauty industry in Vietnam. This is an important occasion for us to introduce to our guests. products, services and advanced technology in the beauty industry.In addition, we also want to build a playground for businesses and individuals with the same passion for beauty to exchange and cooperate. We believe that Beautycare Expo will become a solid foundation for the development of Vietnam's beauty industry."
The Polish pavilion is a remarkable highlight not to be missed at this year's exhibition. All participating companies meet reputable and trustworthy standards, ensuring quality management and strict supervision. This area is a bridge connecting Vietnamese and Polish companies, creating opportunities for business development and cooperation between the two countries. At this booth, visitors will experience skin care products with ingredients extracted from nature that help regenerate micro-cells daily, improve skin elasticity,... And other benefits. Hair care products with natural ingredients create different scents so you can freely choose products that suit your own personality.
In addition to the Polish pavilion area, the highlight of the Beautycare Expo exhibition also focuses on many large pavilion clusters such as Japan, Taiwan, Korea, China, etc. bringing diversity not only in products and sources but also in culture and style.
Within the framework of Beautycare Expo 2023, participating businesses will enjoy the most favorable conditions to establish and strengthen strong business (B2B) relationships. This is an extremely valuable opportunity, allowing participants to expand and optimize their business network.
In addition to B2B activities taking place throughout the 4 days, a series of profound seminars revolve around two important topics: Stem cells for rejuvenation and Essential oils in the pharmaceutical and cosmetic industry, along with pure natural cosmetic standards. These conferences not only provide an in-depth look at beauty industry trends, but also create valuable opportunities for experts and businesses to participate in exchanging knowledge and experiences.
Special participation of famous Beauty Influencers: Yul Daily and Trixie. Through live streaming and lively introduction of products from booths, but also sharing useful advice, participating customers and businesses have the opportunity to interact directly with the leaders in the beauty industry. This not only enhances the value of the event but also provides valuable information and valuable connections.
Beautycare Expo 2023 promises to be an event not to be missed for businesses and those interested in the beauty industry. Don't miss the opportunity to discover the latest trends and enjoy the classy beauty space at this event. Experience a memorable event with Beautycare Expo and let your inspiration shine.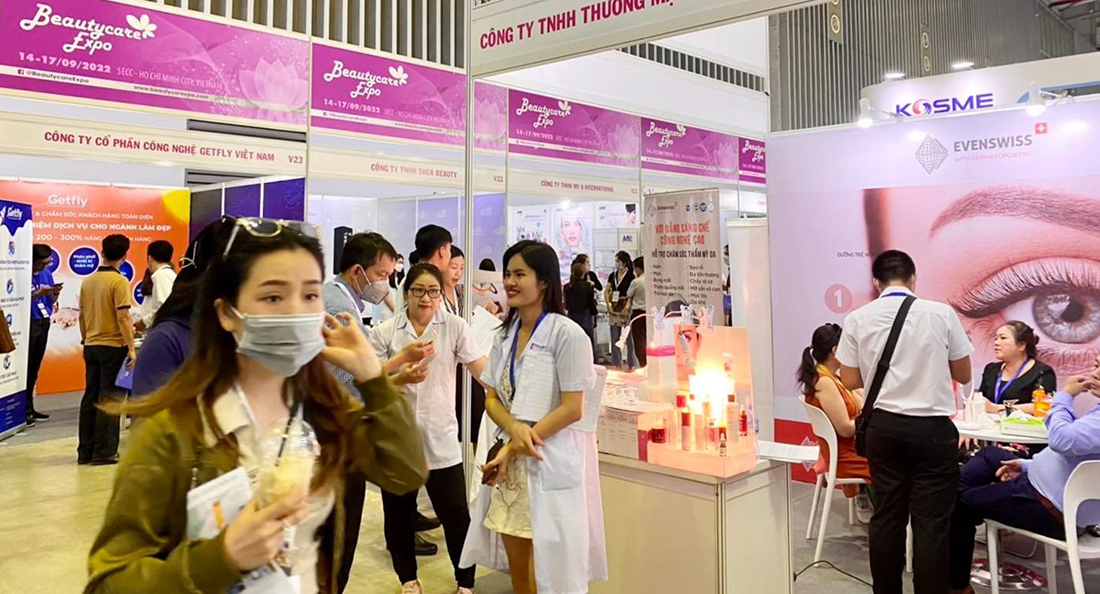 For more information, please contact:
ORGANIZING COMMITTEE: ADPEX JOINT STOCK COMPANY
Email: beautycare@beautycarexpo.com
Website: https://beautycarexpo.com/
Fanpage: https://www.facebook.com/BeautycarExpo
Visitor Regsitration
here
Leave a Reply
Fan Page2
Tags