INCHAM: Blood donation camp 2018
Indian Business Chamber in Vietnam, (INCHAM) is organizing a Blood Donation Camp 2018 in association with Blood Transfusion Hematology Hospital from 7.30AM to 3PM at Youth Cutural House, No 4 Pham Ngoc Thach Street, Ben Nghe Ward, HCMC
INCHAM is the body representing the Indian business in Vietnam. Besides business promotion activities, INCHAM conducts various charity events and cultural exchange events in Vietnam. By organizing the INCHAM BLOOD DONATION CAMP 2018, we are trying to contribute our bit and to spread the positive message to donate blood. We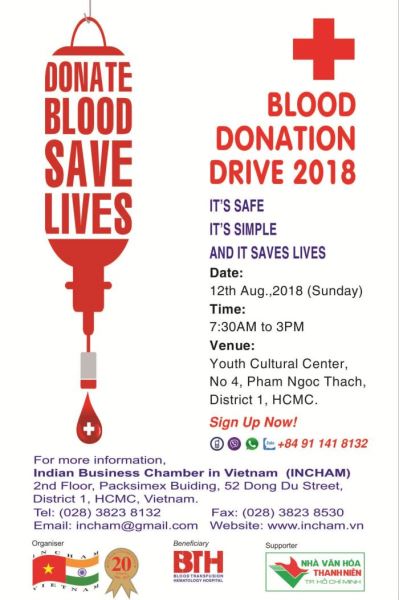 consider donating blood is a social responsibility; it is a healthy practice and a profound gesture, where in one can make a difference between life and death.
We realize, every moment; someone in distress needs blood. She or he may be a cancer patient, someone who needs the vital fluid after childbirth/surgery, or a victim of an accident. Unfortunately, many such patients are not lucky to receive blood in time, with potentially fatal consequences.
The Blood Transfusion Hematology Hospital, benefactor INCHAM BLOOD DONATION CAMP 2018, suggests that anyone is eligible to donate blood if one is in good health, weighs at least 45 Kg and is 18 years or older.
Donating blood has many proven health benefits. It has been linked to a reduction in heart attack rates and cholesterol levels; Regular blood donations also reduce the risk of cancer. Besides these, it also offers the donors a chance for free health screening and blood testing for some major maladies, which are potentially fatal.
For all Donors, and Blood Transfusion Hematology Hospital will issue a Donor card and undertake to give an equal amount of blood donated FREE of any charges in a situation where the donor needs it. This card does not have any time limitation.
INCHAM requests the all to make this important humanitarian initiative a great success, by participating yourself and persuading colleagues, friends and family to donate blood as well.
For registration please contact us at :-
email address: incham@gmail.com
Telephone: 028 3823 8132 or hotline: 091 141 8132
Leave a Reply
Fan Page2
Tags