Leading Vietnamese musicians to perform together
A concert featuring performances by young Vietnamese pianist Trần Gia Quang and renowned pianist Lương Tố Như will take place in the HCM City Opera House on June 27
On the stage of the Encounter Concert, the two artists, together with the Hanoi Saigon Chamber Orchestra and under the direction of the master conductor Honna Tetsuji, will perform great classic masterpieces include Franz Schubert's Fantaisie F - Moll op. 103, Frederic Chopin's Ballade No 4 and Heroic Polonaise Op.53, Johann Sebastian Bach's Concerto No 2 BWV 1053 and Concerto No 4 BWV 1055.

The concert is sponsored by Tân Việt Securities Joint Stock Company (TVSI), FLC Biscom, Military Bank (MB Bank) and The Odys Boutique Hotel.

According to the organisers, the unexpected encounter of two artists with two different personalities will enable the audience to feel life's diversities and therefore will bring different exciting colours to the concert.

Trần Gia Quang is seen practising prior to Encounter Concert. Photo courtesy of the artist

Trần Gia Quang was born in 2007 and began playing the piano at the age of seven under the guidance of his mother, Đào Thị Bích Thuận.

In 2019, after passing the exam and receiving a scholarship at the Juilliard School of Music, Quang studied piano under the Finnish pianist Matti Raekallio and took the chamber music class of artist Yi-Heng Yang. He used to perform at the Paul Hall concert hall, the Presbyterian Church in New Jersey with CME - an organisation that sponsors talented young musicians.

After completing two years of pre-college at Juilliard with flying colours, under the guidance of pianist Như, he passed the entrance exam to the Paris Conservatory of Music, where he is currently studying.
The 14-year-old pianist has won many international awards including the first prize in the fourth Hà Nội International Piano Competition in 2018, first prize in Group A at Steinway Vietnam competition and first prize in Group C in IMCAS competition in Singapore.

Speaking of his performances in Encounter, Quang said: "The upcoming concert when I can perform on the same stage with pianist Lương Tố Như and other leading musicians in Việt Nam such as conductor Honna Tetsuji, violinist Nguyễn Thiện Minh, violinist Đào Mai Anh or violist Phạm Vũ Thiên Bảo will help me mature on my musical path. I hope to be able to contribute more to the national classical music scene."

Pianist Lương Tố Như, born in Hà Nội in 1987 and raised in Paris, has both Vietnamese and French culture and represents the new generation of young global citizens living to the fullest, with a desire to explore the wider world.

Như started taking piano lessons with Professor Trương Thị Tuệ at Hanoi College of Art. While studying here, she continuously achieved top prizes in young talent contests in Việt Nam and participated in an international music festival in China. Under the guidance of pianist Nguyễn Hữu Tuấn, she received a full scholarship at the Royal College of Music in London at the age of 14, before moving to France at the age of 15 to study at the Boulogne-Billancourt Conservatory.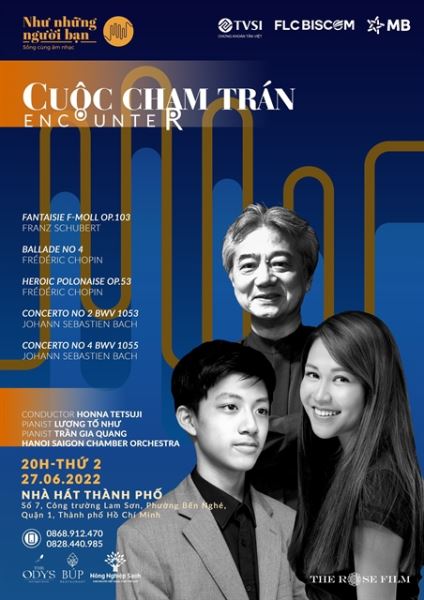 A concert featuring performances by young Vietnamese pianist Trần Gia Quang and
renowned pianist Lương Tố Như will take place in the HCM City Opera House on June 27.

During more than 15 years in France, Như studied piano performance and chamber ensemble with many world-class artists such as Marie-Josèphe Jude, Jean-François Heisser and Xavier Gagnepain. She has won several top prizes in international piano competitions such as UFAM and Claude Kahn. The pianist has participated in more than one hundred concerts, music festivals, as well as recording projects of international music producers and labels.

Since her return to Việt Nam in 2015, Như has been devoting herself to music education. Together with maestro Honna Tetsuji, she founded the Hanoi Saigon Baroque Orchestra with talented and enthusiastic artists, to bring a bright and positive classical music breeze to the audience all over the country.

VNS
Leave a Reply
Fan Page2
Tags