Time out in August
Homeland lunch combos at @ Cafe Central Nguyen Hue
Flavorful salmon Wellington at Amigo
Amigo Grill Restaurant in HCM City presents the delicate and succulent flavor of Norwegian salmon topped with spinach and wrapped in a home-made pastry puff this August.
Served with steamed new potato, string beans, broccoli and lemon sauce, the salmon delicacy is just VND779,000++ for two persons including fresh antipasti salad bar, and bread.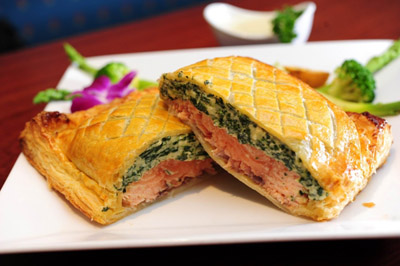 The restaurant offers a delightful feast with 20% off for all family platter orders featuring seafood platter, beef Ribeye trio, US steak platter, Australian steal platter, every Saturday and Sunday.
The restaurant is located at 55-57 Nguyen Hue Boulevard, District 1, Ho Chi Minh City
Homeland lunch combos at @ Cafe Central Nguyen Hue

Cafe Central Nguyen Hue is introducing delicious lunch sets with delightful regional favorites including steamed snake fish fillet with soy-bean sauce, fried snapper fillet served with tomato sauce, braised chicken with lime leaves, fresh noodles with stir-fried beef, herbs, cucumber and bean sprouts.
These lunch sets start from VND89,000++ and include your choice of complimentary tea, coffee, or Pepsi.
Throughout the day, the Cafe offers a selection of sweet cakes including green tea mousse, mango mousse, cherry opera, cream caramel, and more for VND 59,000++ each.
Cafe at Sun Wah Tower, 115 Nguyen Hue Blvd., District 1, Ho Chi Minh City.
German Sunday specials at Gartenstadt
Gartenstadt Restaurant is offering weekend feasts for sharing including the fully monty for six featuring crispy pork knuckle, bratwurst, frankfurter, beef rolls, roast beef, roast pork, meat loaf, German hamburger Vienna style ecalope, and side dishes. Just VND990,000++ including three glasses of Krombacher draught beer and three soft drinks.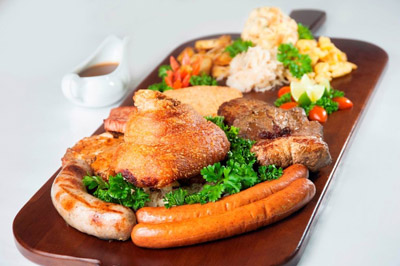 The restaurant is located at 34-36 Dong Khoi Street, District 1, Ho Chi Minh City.
Flavorful Japanese sets at Kissho

Kissho Restaurant is offering a quick and delicious lunch break for with friends and colleagues. For a limited time, buy four set lunches and receive one complimentary sushi-sashimi platte.
The price is just 159,000++per course including appetizer, steamed egg, salad, main course and miso soup.
This summer, share a flavorful Japanese set for three persons featuring authentic flavors of Japanese dumplings, Japanese-style deep-fried chicken, Sashimi and sushi boat, deep-fried pork with tonkatsu sauce, mixed deep-fried tempura, teppanyaki chicken steak, and grilled mackerel with teriyaki sauce.
It is VND 799,000++ for three persons.
30% off for all sashimi, sushi, sochu orders during happy hours 14:00 to 17:00.
For reservations, please contact Kissho at 14 Nguyen Hue Blvd., Dist.1, Ho Chi Minh City
Leave a Reply
Fan Page2
Tags