Where to watch the best fireworks on Vietnamese New Year eve
Ho Chi Minh City has planned fireworks at four spots -- the Saigon River Tunnel, Dam Sen theme park, Cu Chi Tunnel area and the main football field of Can Gio District. The first two locations were also used for fireworks shows on December 31.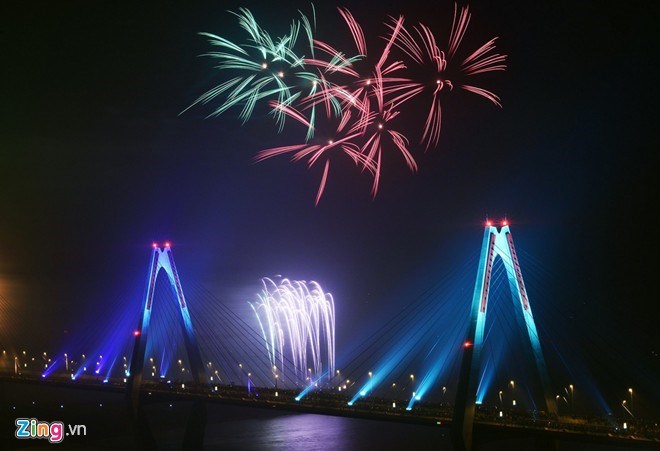 Tet fireworks in Hanoi in 2015. Photo: Anh Tuan/Zing

Vietnam's poor province criticized for $20,000 fireworks plan

Vietnam province cancels fireworks shows, asks sponsors to donate to poor families

Vietnam kick-starts New Year with fireworks, congestion

Vietnam's largest cities will let off fireworks at various spots for 15 minutes from midnight February 8 to ring in the new lunar year.

Hanoi has announced plans for fireworks shows at 31 locations and in every district.

There will be six grand shows downtown including two at the Sword Lake – in front of the city post office and Hanoi Moi newspaper. The other four will be at Thong Nhat Park in Hai Ba Trung District, Nguyen Hoang Ton garden in Tay Ho District, Van Quan Lake in Ha Dong District and My Dinh Stadium in Tu Liem District.

Hanoi officials said the shows would be funded privately.

Fireworks at the tunnel on the District 2 side can be viewed perfectly from Nguyen Hue walking street, along the Saigon River near the tunnel, Van Don Wharf in District 4 and Mai Chi Tho boulevard.

Or one can try rooftop bars and coffee shops in the area.

To watch the Dam Sen fireworks, one can just buy tickets to enter the park or choose a vantage point nearby.

The authorities are likely to ban people from using several nearby bridges like Mong, Khanh Hoi and Calmette for safety reasons while the fireworks are on.

The Da Nang government has named four locations for fireworks -- Nguyen Van Troi Bridge, Ngu Hanh Son District Stadium, and sites in front of the Lien Chieu and Hoa Vang District government offices.

By TNO





Leave a Reply
Fan Page2
Tags