CHILL SKYBAR: Highlight International Women's Day Event On 3/2019
Run The Dance Floor As A Diva In The Special "International Women's Day Celebration"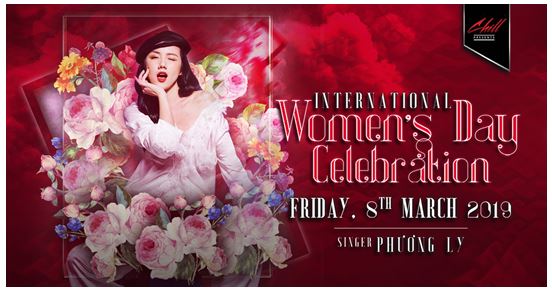 Women are born to love, be loved and deserve to have an official day to celebrate their presence, rights & achievements. Hence, Chill Skybar is more than excited to bring the extraordinary Music & Dance Performances for our beauties at the one & only special event |International Women's Day Celebration|on Friday (8th March 2019).
Win all music lovers with the BIG HIT "Mặt Trời Của Em", this time at Chill, 𝑺𝒊𝒏𝒈𝒆𝒓 𝑷𝒉𝒖̛𝒐̛𝒏𝒈 𝑳𝒚 will stir your mood up with her popular songs in 𝗿𝗲𝗺𝗶𝘅 𝘃𝗲𝗿𝘀𝗶𝗼𝗻𝘀 𝗧𝗵𝗮̆̀𝗻𝗴 Đ𝗶𝗲̂𝗻; 𝗡𝗴𝘂̛𝗼̛̀𝗶 𝗡𝗮̀𝗼 Đ𝗼́", especially "𝗔𝗻𝗵 𝗟𝗮̀ 𝗔𝗶" that now reaches 𝗼𝘃𝗲𝗿 𝟭𝟴 𝗺𝗶𝗹𝗹𝗶𝗼𝗻 𝗼𝗳 𝘃𝗶𝗲𝘄𝘀 𝗼𝗻 YouTube.
Even more amazing, our special Dance "Power Behind The Beauty" is gonna blow this party in the max level. Let's head to Chill Skybar to run and rule the dance floor in your special day, ladies!
International Women's Day Celebration
Friday, 8th March, 2019
Singer Phuong Ly & A Sexy Dance Performance
Ticket Price: 300.000 VND (Including 1 premium drink | Applied for no-table guest)
Chill Skybar
Address: Rooftop 26th Floor, AB Tower, 76A Le Lai, District 1, HCMC.
Hotline: 093 882 2838
Email: info@chillsaigon.com
Website: chillsaigon.com
Facebook: facebook.com/like.chill.saigon
Instagram: instagram.com/chill_skybar
Leave a Reply
Fan Page2
Tags