CHILL SKYBAR: Highlight Valentine's Event on February
Turn Your Heartbeat Up With The Half One In A Special Valentine's Event "Electronic Valentine"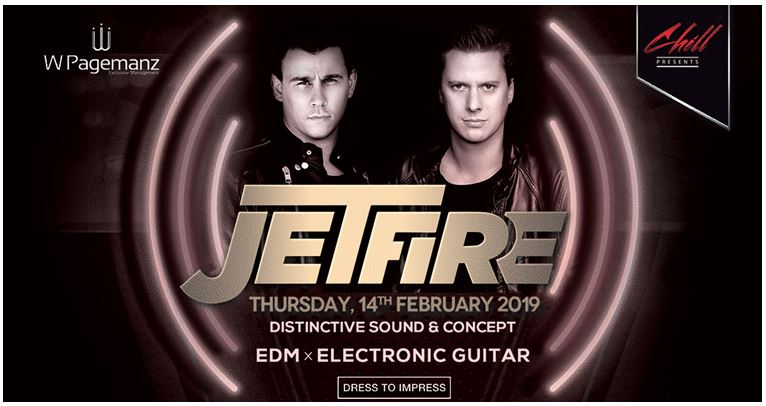 Experience an alive party with the one & only performance by JETFIRE - a duo 𝗗𝗝/𝗣𝗿𝗼𝗱𝘂𝗰𝗲𝗿 𝗫 𝗘𝗹𝗲𝗰𝘁𝗿𝗼𝗻𝗶𝗰 𝗚𝘂𝗶𝘁𝗮𝗿 this 𝗩𝗮𝗹𝗲𝗻𝘁𝗶𝗻𝗲 at Chill Skybar.

Collab & supported by heavy names like Hardwell, Dimitri Vegas & Like Mike, Martin Garrix, Tiësto and more…to create loads of trendy EDM tracks. 𝐉𝐄𝐓𝐅𝐈𝐑𝐄 also makes the world go WOW when their 𝑰 𝑭𝒆𝒆𝒍 went straight to #No1 on the "Progressive House Chart" and topped 8 million streams on Spotify. First release in 2018, 𝑭𝒐𝒍𝒍𝒐𝒘 𝑴𝒆 exceeds over 1 milion streams after only 2 months.

From Tomorrowland to Chill Skybar, 𝐉𝐄𝐓𝐅𝐈𝐑𝐄 will spice this romantic party up with their unique & distinctive sound along with 𝑺𝒆𝒅𝒖𝒄𝒕𝒊𝒗𝒆 𝑪𝒐𝒖𝒑𝒍𝒆 𝑫𝒂𝒏𝒄𝒆𝒓𝒔. Reserve your own table now!
Electronic Valentine
Thursday, 14
th
February, 2019
JETFIRE – Duo EDM 𝗗𝗝 𝗫 𝗘𝗹𝗲𝗰𝘁𝗿𝗼𝗻𝗶𝗰 𝗚𝘂𝗶𝘁𝗮𝗿
Ticket Price: 300.000 VND (Including 1 selected drink | Applied for no-table guest)
Chill Skybar
Address: Rooftop 26
th
Floor, AB Tower, 76A Le Lai, District 1, HCMC.
Hotline: 093 882 2838
Email:
info@chillsaigon.com
Website:
chillsaigon.com
Facebook:
facebook.com/like.chill.saigon
Instagram: instagram.com/chill_skybar
Leave a Reply
Fan Page2
Tags