Foreign convenience stores go from strength-to-strength in Ho Chi Minh City
Vietnam has been forecast to have the fastest-growing convenience store market in Asia by 2021
A man waits for his food at a convenience store in Ho Chi Minh City. Photo by VnExpress/Vu Minh

Ho Chi Minh City has proven to be a fertile land for convenience store chains, and many are planning to expand their businesses in Vietnam's southern commercial hub.

The number of convenience stores in HCMC rose by 5.1 percent on-year in the first quarter of 2018 to over 1,800.

Convenience stores now cover more than 270,000 square meters of floor space in the city, Jones Lang LaSalle (JLL) Vietnam said in its Q1 report on Vietnam's property market.

The U.S-based real estate service provider said the number of stores in the city will continue to grow to cater for its 13 million inhabitants due to the entry of newcomers.

Vietnam is forecast to be the fastest-growing convenience store market in Asia by 2021 with a growth rate of 37.4 percent, according to new data released last Friday by international grocery research organization IGD, followed by the Philippines and Indonesia.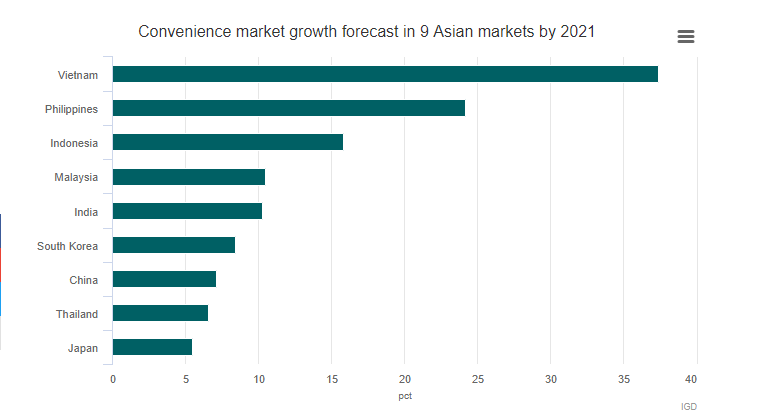 IGD said it is "forecasting high double-digit compound annual growth over the next four years in Vietnam, Philippines and Indonesia based on the performance of the leading convenience store operators in each market."

On the particularly strong growth tipped for Vietnam, Nick Miles, head of Asia-Pacific at IGD, said: "Convenience stores in Vietnam have become popular destinations for young consumers to shop and hang out, as the stores provide them with an air-conditioned environment, well-organized shelves and seating areas, high quality products and, in some stores, free Wi-Fi. It is also easier to get licenses for stores under 500 square meters, which is why retailers have been expanding to gain market share."

Foreign chains are currently dominating the local market, making up 70 percent of total convenience stores in Vietnam.

American chain Circle K has around 250 stores, mostly in the country's two biggest cities, HCMC and Hanoi.

FamilyMart, Japan's second largest convenience store chain, has a combined 130 stores in Ho Chi Minh City, the nearby resort town of Vung Tau and Binh Duong Province.

Southeast Asian chains Shop&Go and B's mart are running another 300 stores.

Vinmart, Vietnam's leading property conglomerate Vingroup's retail network, plans to open 3,000 convenience stores across the country.

In June last year, Seven & i Holdings, which operates Japan's biggest convenience store chain 7-Eleven, opened its first outlet in HCMC.

South Korea's GS Retail also plans to enter the market in the near future with the first outlet bearing its GS25 convenience store brand in HCMC.

Kyodo News quoted a company representative as saying that it plans to open 100 stores in Vietnam within three years and expand that number to 1,000 in the next decade.


VNExpress

Leave a Reply
Fan Page2
Tags