Hanoi plans new $5-billion airport near Noi Bai
The Civil Aviation Authority of Vietnam is discussing with Hanoi authorities and relevant agencies the construction of a new airport to ease overloading at Noi Bai.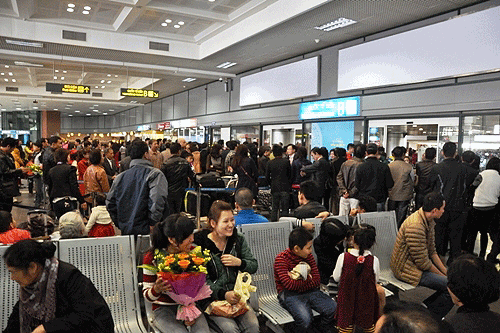 Passengers at Hanoi's Noi Bai Airport. Photo: Dao Ngoc Thach

The agency's director Lai Xuan Thanh said the Noi Bai 2 Airport project will be developed on an area of 720 hectares (1,780 acres) near the current airport. Site clearance will cost about $2 billion and construction nearly $3.5 billion.

Thanh said his agency will call for private investment.

With a capacity of 25 million passengers, the current Noi Bai Airport will become more strained in the coming years considering the projected annual passenger growth of 22 percent.

"Building another airport is an emergency issue," he said.

Noi Bai served 63 million passengers in the first four months, up 31 percent from the same period last year. Several airlines have announced plans to expand their fleets to meet the growing air travel demand.

"Strong growth in the aviation sector recently has created huge pressure on airports," Thanh said.

The Civil Aviation Authority said it will submit the plan to the central government after consulting relevant agencies.

Vietnam is also developing a massive airport in the southern province of Dong Nai, near Ho Chi Minh City.
By TNO
Leave a Reply
Fan Page2
Tags