Oktoberfest Vietnam 2016 lucky draw Grand Prize announced
Adwin Chong, Windsor Plaza Hotel's general manager presents the Oktoberfest Vietnam 2016 lucky draw grand prize to winner Tran Minh Duc.
Tran Minh Duc, from HCM City has won the biggest ever lucky draw prize of the Oktoberfest Vietnam 2016 which was held at the Windsor Plaza Hotel last month.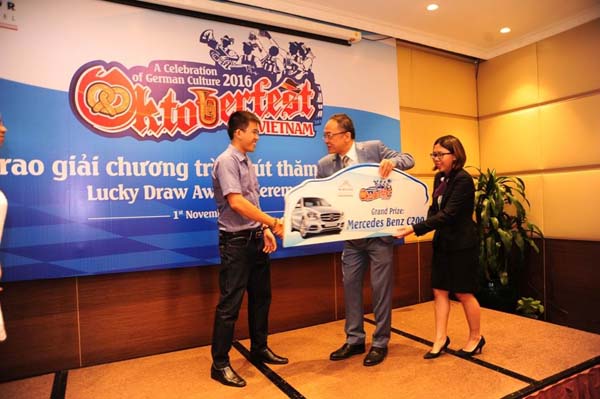 The Grand Prize worth of VND1.48 billion Mercedes-Benz C 200 was presented to the winner at a ceremony held this morning (Nov 1).

The Nightly First Prizes of Vespa LX 125 motorbikes were also awarded to the other seven winners including Nguyen The Quy, Le Quang Nha, Amelie Prentout, Nguyen Trong Hoang, Ng Wai Kit, Nguyen Xuan Hiep and Thai Thi Hong Ngan.

Oktoberfest Vietnam has been held in Windsor Plaza Hotel since 2005, recognized by Reuters as one of the Top 10 Oktoberfest celebrations outside Germany, and featured in the Chicago Tribune.

Beside authentic German specialties and beer, the Oktoberfest Vietnam 2016 event also offered delightful activities, exciting games and prizes.

Windsor Plaza Hotel
Leave a Reply
Fan Page2
Tags