STARWOOD: The Success Continues in Vietnam
Starwood Hotels & Resorts Worldwide, Inc. has held a cozy cocktail event with the press and media to update the new development strategy of the company in Vietnam. Following the statement, within the next 3 years, there will be at least 4 new 5-star hotels to be launched at focal tourism provinces of Vietnam.
Starwood's Vietnam team
Since announcing the opening of Sheraton Saigon Hotel & Towers in 2003, Starwood Hotels & Resorts has accelerated growth in Vietnam with signing more upscale-brand properties including Sheraton Ha Noi Hotel - Sheraton Nha Trang Hotel & Spa in 2004 and 2010 respectively. The debut of its Le Meridien brand with Le Meridien Saigon in 2015 marked the fourth milestone of Starwood Hotels & Resorts in Vietnam.
Starwood continues its robust continuous development in Vietnam with 6 more openings in the next few years:
Sheraton Hoi An Tam Ky Resort – Opening Quarter 2, 2017
Four Points by Sheraton Da Nang – Opening July 1st, 2017
Sheraton Phu Quoc Resort – Opening July 1st, 2017
Sheraton Da Nang Resort – Opening January 1st, 2018
Sheraton Ha Long Bay Hotel – Opening July 1st, 2018
The Westin Ha Noi – Opening January 1st, 2019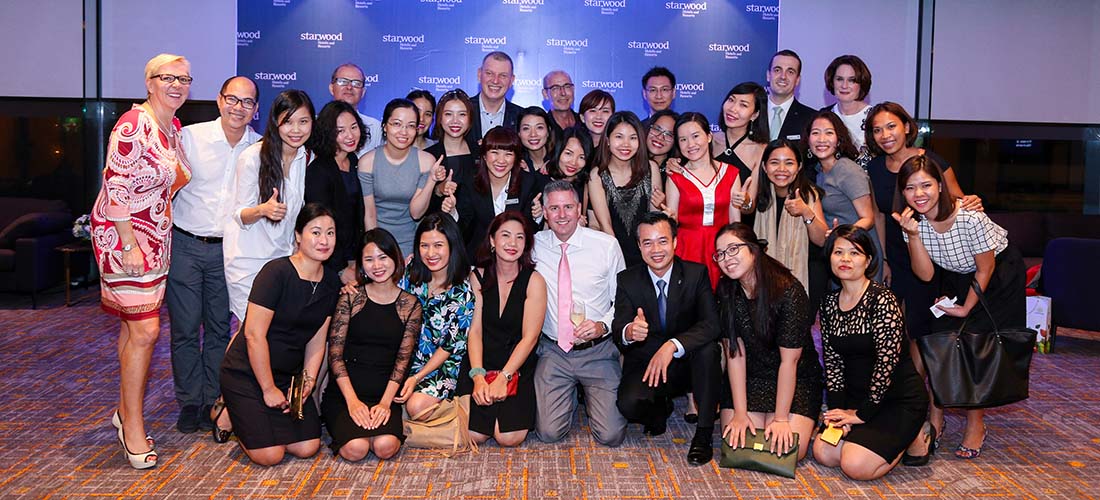 with media in HCM city
The Week of Appreciation, officially organized by Starwood from 11 to 15 July, includes visits to each and every supporting media publication in Vietnam. To close this Week, a cozy Cocktail Dinner party is held at Sheraton Saigon's brand new Ballroom on 15 July, gathering representative of Starwood Divisional Office, General Managers of 4 Starwood properties, and invited media in Vietnam
Starwood Hotels in Vietnam
Leave a Reply
Fan Page2
Tags