HCM City plans to renovate Bến Thành Market
HCM City's authorities are working on a project to renovate Bến Thành Market, one of the city's oldest wholesale markets
HCM City authorities are working on a project to renovate Bến Thành Market, one of the city's oldest wholesale markets.
The renovation will include roof tiles, water supply and drainage systems, electricity, lighting and fire protection. Four main gates and kiosks will also be repaired.
An area of 45,800 square metres in front of the market, including Quách Thị Trang Square, roads and sidewalks, will be rebuilt and upgraded.
The VNĐ157 billion (US$6.4 million) investment will come from the city's budget and private sources.
The renovation is scheduled to be completed before April 30, 2025.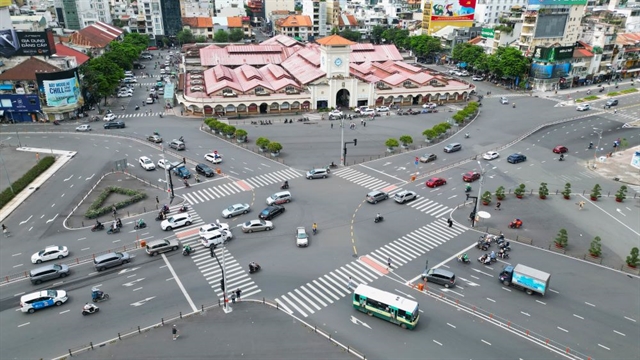 Bến Thành market began when street vendors gathered near the Bến Nghé River in the early 17th century.
It was established by the French colonialists after they took over the Gia Định Citadel under the Nguyễn Dynasty in 1859.
In 1912, the market was moved to a new building on more than 13,000sq.m of land located on what are now the streets of Phan Bội Châu, Phan Chu Trinh and Lê Thánh Tôn.
The market's last renovation was in 1985. It has became one of the city's most attractive destinations for visitors.
It has more than 3,000 stalls, offering food, garments, footwear and handcrafts. Shops selling Vietnamese handicrafts and food, such as fried seafood, are popular with both foreign and local visitors.
Customers are free to bargain, but many vendors offer fixed prices.
Before the Covid-19 pandemic, the market normally attracted more than 7,000 Vietnamese and foreign visitors a day on weekends and during the Christmas and New Year holidays, according to Ngô Văn Hà, head of the market's managing board.
The market's shop owners are preparing for the Christmas and New Year holidays. Traditional Vietnamese silk and cotton clothing, handicrafts and foodstuffs like fried seafood, which can be stored for months, will be favoured by visitors.
Viet Nam News
Leave a Reply
Fan Page2
Tags