Actively remove difficulties for enterprises in Long Hau Industrial Park
That is the commitment of Mr. Pham Van Ranh – Secretary of the Provincial Party Committee and Chairman of People's Council of Long An province stated in the Dialogue Conference between The Secretary of Long An Provincial Party Committee And Enterprises in Long Hau Industrial Park, Can Giuoc District in 2019 which took place on July 24, 2019
Secretary of the Provincial Party Committee and Chairman of People's Council of Long An province - Mr. Pham Van Ranh delivered a welcome speech

Atteding the conference were Mr. Pham Van Ranh – Secretary of the Provincial Party Committee and Chairman of People's Council of Long An province; Mr. Nguyen Van Ut – Vice Chairman of the Provincial People's Committee; leaders of some departments and agencies; representatives of associations; Management board of Long Hau Joint Stock Company and nearly 200 enterprises operating in Long Hau Industrial Park.

The dialogue conference is an opportunity for enterprises to speak up their opinions and suggestions about difficulties of investment activities to provincial leaders, promptly find advice and solutions. Since then, the government and businesses understand each other, tighten their relationship and work well together to develop the economy of Long An.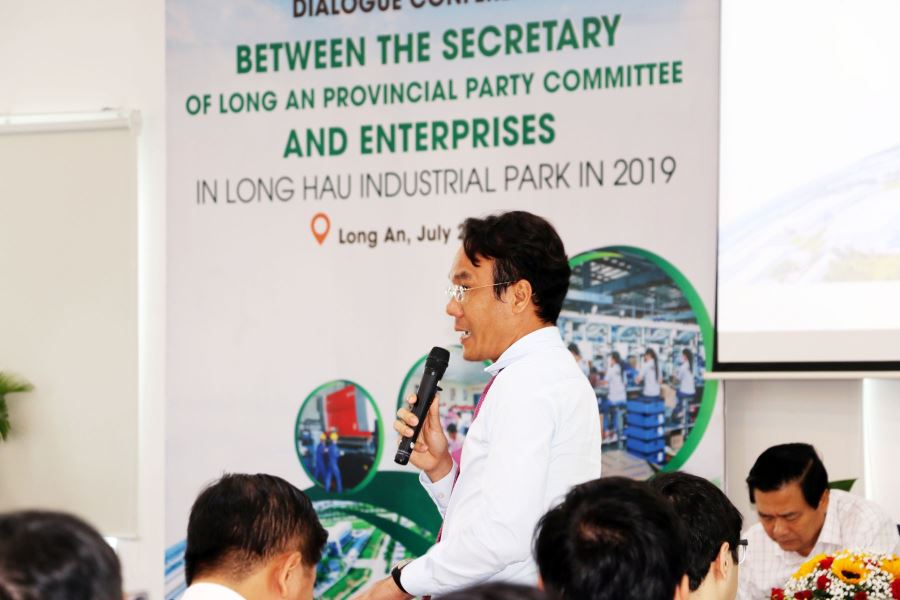 Atteding the conference was Mr. Tran Hong Son - General Director of Long Hau Joint Stock Company

Speaking at the conference, the representative of Long An Department of Planning and Investment said, about foreign investment in the first half of 2019, the province issued investment certificates for 58 projetcs with a total registered captial of USD 208.6 million, and increse of 14 projects and a decrease of USD 22 million in investment capital over the same period. About domestic investment, there were 632 new enterprises established with a total registered capital of VND 8,519 billion, an increase of 6,76 percent in number of enterprises and an increase of 30 percent in registered capital over same period.

Regarding industrial infrastructure development, until now, Long An has 31 IPs which have been added by the Prime Minister to the development plan of industrial zones in Vietnam by 2020, with a total area of 11,391 hectares. Among them, there are 16 IPs operating with an area of 3,862 hectares and occupancy rate of 85.04 percent. For ICs, according to the industrial development planning in the province to 2020, Long An has 62 ICs with a total area of 3,106.5 hectares. The operating ICs have attracted 544 projects with total investment capital of VND 15,635 billion, the occupancy rate reached 86.55 percent. In this year, the province strives to have more 3 IPs (Long Hau 3 Industrial Park, Southeast Asia Industrial Park, Huu Thanh Industrial Park) and 3 ICs (Sao Vang IC, CCN Vissan and CCN Vinh Khang) come into operation.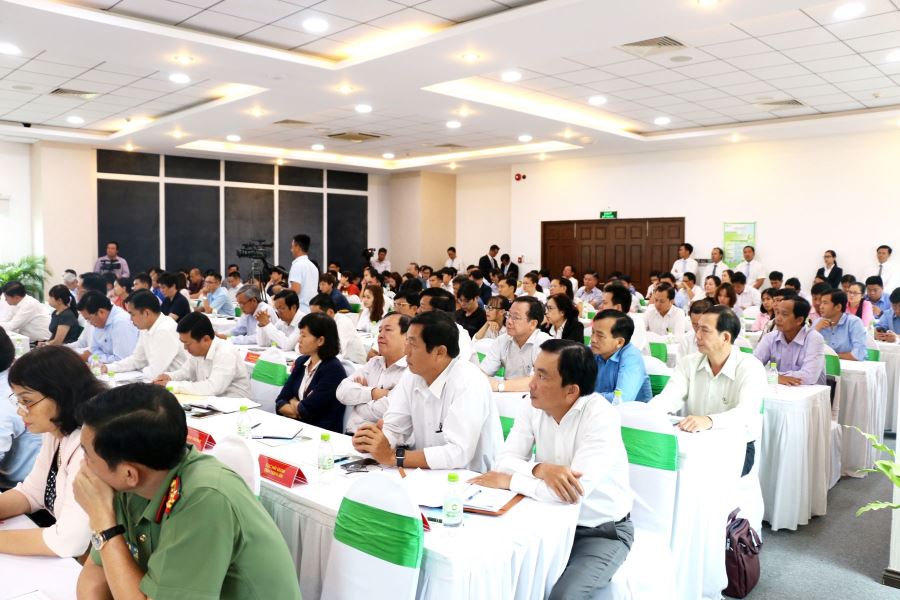 According to the Economic Zone Management Board, Long Hau Industrial Park was granted an investment certificate in December 2006 with an area of 141.85 hectares, while investment certificate of Long Hau Industrial Park expansion was issued in June 2019 with an area of 108.48 hectares. In December 31, 2015, Long Hau IP was basically filled and the expansion was filled in the first quarter of 2018.

In July 2016, phase 1 of Long Hau IP 3 was granted an investment certificate with an area of 123.98 hectares. Up to now, LHC has leveled more than 60% of the liberated area and is conducting infrastructure construction. It is expected that by the end of 2019, the IP will officially come into operation.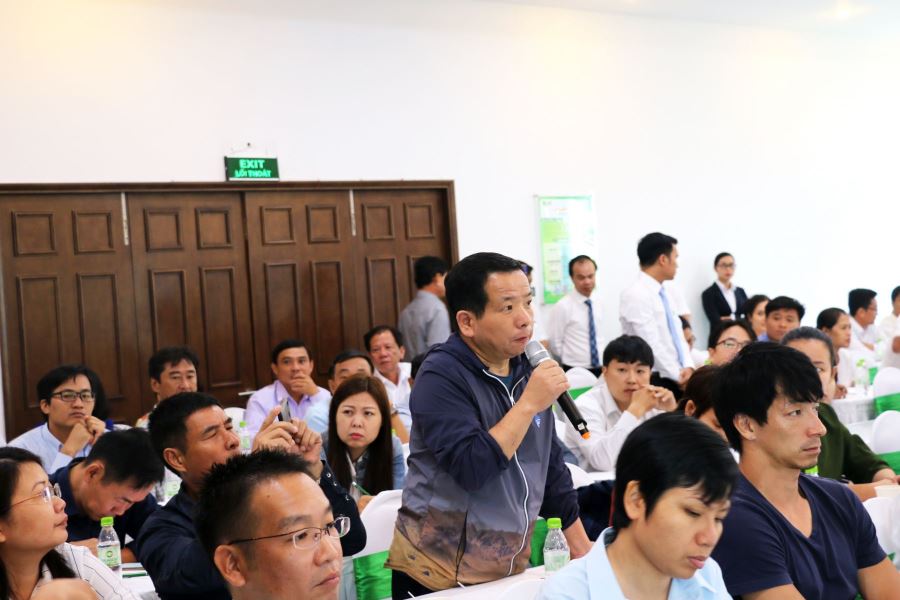 A business owner petitioned about speeding up the completion of legal papers

At the conference, many enterprises suggested expanding the road in Hamlet 3 due to increasing transport activities. In addition, they recommended to build more schools and medical stations for workers in the park. Specially, enterprises interested in the progress of site clearance of Long Hau IP 3 project.

Some business owners also petitioned about speeding up the progress of granting investment certificates and land use rights. Although Long Hau IP provided quick and enthusiastic support in legal procedures, partly because of their limited human resources and lack of knowledge of the law, they sometimes got stuck in the paperwork.

All opinions and recommendations were listened by Mr. Pham Van Ranh. They were directed to the relevant sectors, the park management and the local authorities in order to give enterprises quick and satisfied answers. In particular, regarding site clearance, Deputy Chairman of the Provincial People's Committee – Nguyen Van Ut said that after the conference, the provincial People's Committee will soon hold a symposium on this issue, as well as inspect and urge departments, branches and localities to fulfill their promises to enterprises.
Vice Chairman of Long An Provincial People's Committee - Mr. Nguyen Van Ut asked the locality to identify the causes of difficulties in compensation and site clearance.

At the end of the conference, Mr. Pham Van Ranh committed provincial leaders and authorities at all levels to always accompany with enterprises, identify enterprises' difficulties as their own ones and solve them together. The goal was to create a sustainable investment environment, contribute to the development of the economy of Long An.

"In the coming time, for any difficulties, enterprises should contact directly to Long Hau IP, districts, departments and branches to find a quick support; avoid wasting time going around but the issues are still unsolved," Mr. Pham Van Ranh emphasized.



Leave a Reply
Fan Page2
Tags