Radisson Blu Resort Phu Quoc in co-operation with Lavie to launch environment project
In order to minimize the impact on the environment and save planet, Radisson Blu Resort Phu Quoc has joined the project Glass Bottles from La Vie Co., Ltd.
La Vie has launched the new product and invested in resources to ensure empty bottles are collected and completely recycled to minimize the impact on the environment.After using, La Vie Glass will be collected and delivered to San Miguel factory. After that, glass bottles will be processed & recycled through 8 steps to become completely new glass bottles.La Vie Glass, carbonated and non-carbonated, comes in Italian-designed bottles and is targeted at luxury hotels and restaurants.


In Phu Quoc, Radisson Blu Resort Phu Quoc is the first partner in collaboration with La Vie to launch this project. La Vie Glass aims to encourage the public and businesses, especially in the hospitality industry, to use glass bottles and other environment-friendly materials. Taking responsibility for the environment and local community has been an important part of the broader commitment of the Radisson Hotel Group (RHG) to sustainable development for many years.


Mr Marko Janssen, General Manager said "Radisson Hotel Group is consider one of the best Corporation with high quality, good service and responsible business. At Radisson Blu Resort Phu Quoc, we are proud to have a unique Responsible Business Action Plan covering areas such as community outreach, environmental improvement, employee well-being, health and safety. We create memorable experiences in stylish spaces. By paying close attention to the small details that make a big difference, we inspire unforgettable experiences with every stay. That's our Feel The Difference brand identity and value. Thanks La Vie Co., Ltd and Annam Professional for great partnership. This campaign is not about new bottle, but new era for non-plastic bottles in order to save planet and to minimize the impact on environment"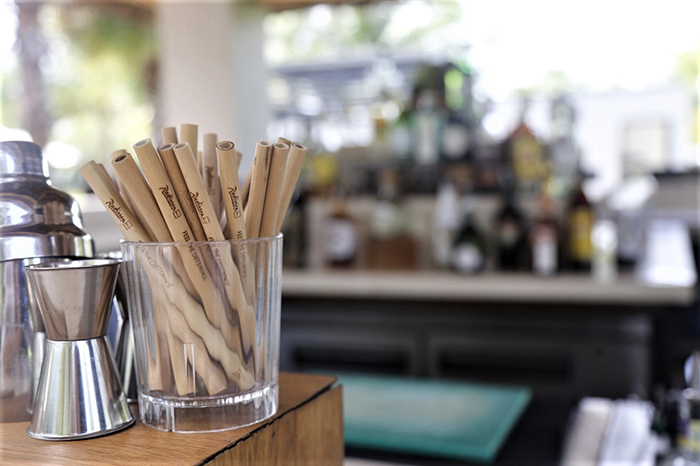 From the begining, Radisson Blu Resort Phu Quoc has launched many Responsible Business activities to think people, think community and think planet. In partnership with Bamboo Steps, Radisson Blu Resort Phu Quoc is the first 5-star Resort with a Bamboo Farm grown straws at a new farm on the beachfront grounds, becoming the first international hotel in Vietnam to harvest its own bamboo straws in a bid to protect the environment. The Resort joined forces with hygiene and cleaning solutions company Diversey to participate in "Soap for Hope" and "Linens for Life" in order to protect the environment and support the local communities. In accordance with Phu Quoc Bee Farm, Radisson Blu Resort Phu Quoc has been running Radisson Blu Bee Garden Project, in its mission to inspire, educate and connect communities and visitors to increase the awareness of honeybees and to support food sustainability.

Mr Marko Janssen, General Manager of Radisson Blu Resort Phu Quoc

Nestled on the powdery white sands of Phu Quoc's idyllic Northwest coast, Radisson Blu Resort Phu Quoc gazes out across the azure sea with its lush, landscaped gardens and pristine beach. With 514 modern, contemporary rooms, suites and pool villas, Radisson Blu Resort Phu Quoc ensures that every guest can unwind in space and style. The Deluxe Rooms, One-Bedroom Suite and Executive Suites all feature modern interiors, cutting-edge amenities and complimentary Wi-Fi, with private balconies or terraces overlooking the tropical gardens, pool, water park, mountains or sea. Directly accessible from the hotel, the Corona Resort & Casino features fantastic facilities activities for all ages, including the Corona Theatre, Almaz Shopping Centre, a world-class golf course, plus safari, amusement and water parks. Guests can also soothe their senses at Akoya Spa and gym.
RADISSON BLU RESORT PHU QUOC
Bai Dai Area, Ganh Dau Commune, Phu Quoc, Kien Giang Province, Vietnam
T: +(84) 297 366 0000,
Website:
https://www.radissonhotels.com/en-us/hotels/radisson-blu-resort-phu-quoc
Facebook:
https://www.facebook.com/RadissonBluResortPhuQuoc/
Leave a Reply
Fan Page2
Tags