Newly arrived COVID-19 vaccine doses to be given to worst-hit localities
A further 1,682,000 doses of Oxford/AstraZeneca's COVID-19 vaccine from the global vaccine sharing scheme COVAX arrived in Việt Nam on Sunday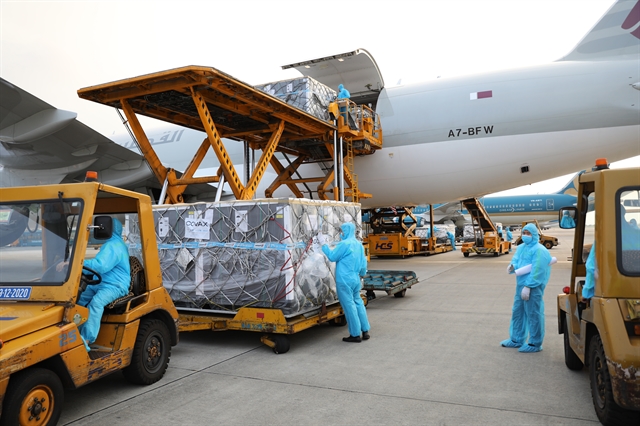 The batch of 1,682,000 doses of Oxford/AstraZeneca's COVID-19 vaccine from COVAX arrived at Nội Bài International Airport in Hà Nội on Sunday. — Photo courtesy of UNICEF
The shipment, which arrived at Nội Bài International Airport in Hà Nội on a Qatar Airlines flight, was transported to the cold storage facility of the National Institute of Hygiene and Epidemiology in Hà Nội at 8pm.
This shipment comes in addition to the first batch of more than 800,000 doses delivered on April 1 and is part of the 4.1 million free-of-charge doses committed to Việt Nam from the COVAX Facility by the end of May (out of the total 30 million doses the country is eligible to receive by the end of 2022), according to a statement from UNICEF.
The COVAX Facility, an international partnership created to ensure global equitable access to COVID-19 vaccines, is co-led by the Coalition for Epidemic Preparedness and Innovations (CEPI), GAVI, the Vaccine Alliance, World Health Organisation (WHO) and UNICEF.
The vaccine doses were shipped from Catalent Biologics' manufacturing facility in Anagni, Italy.
The health ministry will assess the doses for quality control purposes before allocating them to localities for the third phase of the vaccination programme.
As of Sunday, 979,238 doses had been administered to frontline workers, medical staff who are directly involved in the treatment of COVID-19 patients, contact tracers, community-based anti-COVID-19 groups, members of steering committees from central to local levels, military, and public security forces, according to the National Expanded Programme on Immunisation.
A total of 22,561 people have received the full two doses.
"The additional vaccines will help the Ministry of Health to expand coverage and reach more people from the priority groups, while also providing a second dose to those who have already received the first dose," UNICEF said.
Amid record spikes in cases in the ongoing fourth wave of community infections, Deputy Minister of Health Trần Văn Thuấn said the vaccines will be prioritised for provinces that are suffering from high caseloads like Bắc Ninh and Bắc Giang in the northern region.
Thuấn said a multidose vial of the AstraZeneca vaccine, 10*0.5ml doses, could be used to inoculate up to 11-12 people instead of just 10.
Eighteen per cent of the vaccinated have suffered from mild reactions, with the most common local swelling, pain, or fever. Only 24 have recorded serious reactions, including one death from anaphylactic shock.
Currently, Việt Nam's health authorities have approved only two types of vaccines for emergency use in the country – AstraZeneca and Russia's Sputnik V.
The existing stockpile of vaccine doses expected to be fully administered by May 23, before moving on to the newly arrived doses. — VNS
Leave a Reply
Fan Page2
Tags