Emergency announcement on movement history of COVID-19 patients
The Ministry of Health urged people who were present in the following places at certain times immediately contact local centres for diseases control for health monitoring instructions
The Ministry of Health this morning issued an emergency announcement on the movement history of COVID-19 patients.
According to the urgent notice, the patients went to several restaurants, bars and shopping centres.
The Ministry of Health urged people who were present in the following places at certain times immediately contact local centres for diseases control for health monitoring instructions: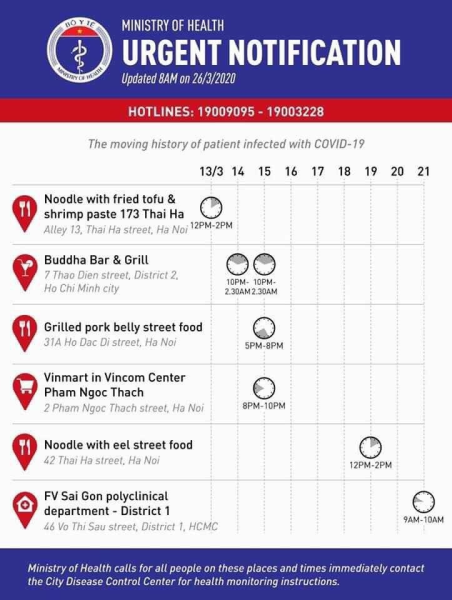 1. Bún đậu mắm tôm restaurant (Vermicelli with fried tofu and shrimp paste) Lane 13 Thái Hà, Hà Nội, from 12pm-2pm on March 13.
2. Grilled meat restaurant at 31A Hồ Đắc Di, Hà Nội, from 5pm-8pm on March 15.
3. Vinmart in Vincom Phạm Ngọc Thạch, No. 2 Phạm Ngọc Thạch Street, Hà Nội, from 8pm-10pm on March 15.
4. Buddha Bar & Grill, 7 Thảo Điền Street, Thảo Điền Ward, District 2, HCM City, from 10pm on March 14 to 2.30am on March 15.
5. Eel vermicelli restaurant, 42 Thái Hà Street, Hà Nội, at about 2pm on March 19.
6. FV Saigon Clinic - District 1, 46 Võ Thị Sáu, District 1, HCM City, from 9am to 10am on March 21
VNS
Leave a Reply
Fan Page2
Tags