San Fu Lou celebrates Lunar New Year
Lunar New Year is a meaningful occasion for everyone to gather and send each other blessings.
Let's share and enjoy our Lunar New Year Menu with spectacular dishes to begin a new joyful year! San Fu Lou's Tet Menu includes Rice with Chinese Sausage in Clay Pot, Sauteed Prawn Scallop and Broccoli with Carrot Sauce, Braised Sea Cucumber with Abalone Sauce, Salmon effective from 23rd of Jan to 19th of Feb 2017.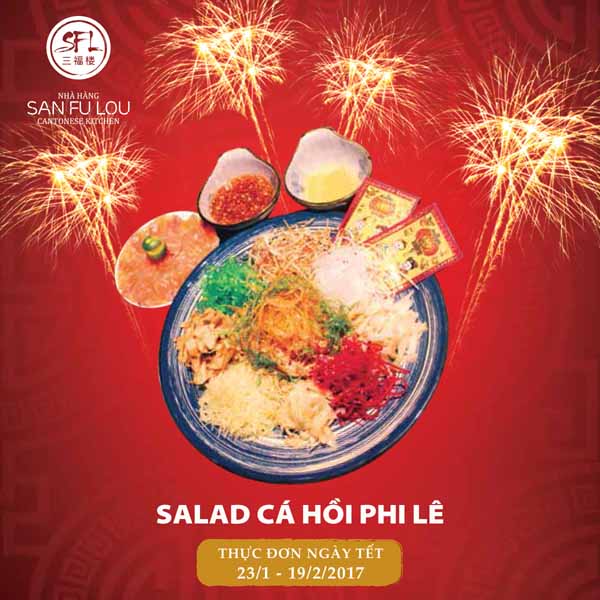 San Fu Lou are honored to be chosen by Cantonese food lovers for true traditional Beijing roasted duck. Come to San Fu Lou to experience the exclusive dish on Friday with only 290,000VND per half roasted duck. In another hand, Hainamese Chicken Rice including rice, steamed chicken, seaweed soup – will bring you a wonderful lunch with its special flavor and nutritious value every Wednesday at 115,000VND/pax.


A tasty and nutrition breakfast will give you energy for a productive day. This is why you shouldn't bypassed "Happy Breakfast" with San Fu Lou. Buy 3 of any noodles/congee, you will get 1 free. Keep in mind that this promotion only apply in weekdays from 7AM-10AM.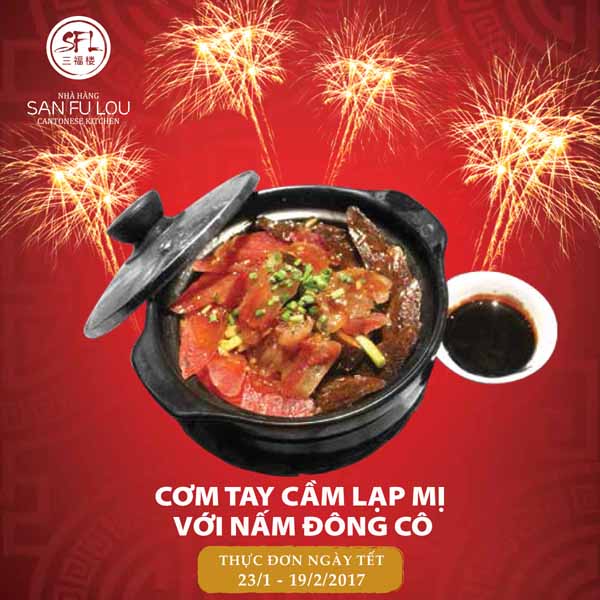 Applied for all San Fu Lou Restaurants.
SAN FU LOU 1
76A Le Lai St., Dist 1, HCMC
(+848) 38239513
SAN FU LOU 2
195-197 Phan Xich Long St. Phu Nhuan Dist, HCMC
(+848) 35176168
SAN FU LOU 3
24 Ba Thang Hai St., Dist 10, HCMC
(+848) 38620920
http://sanfulou.com/
www.facebook.com/SanFuLou/

San Fu Lou
Leave a Reply
Fan Page2
Tags